Tilted Kilt Pub & Eatery — Dulles Town Circle
Sterling, VA Hours and Location
Category: Restaurants
Restaurants
Other Nearby Locations:
Other Restaurants Nearby: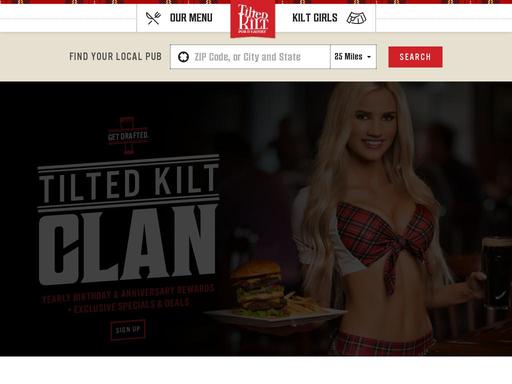 21100 Dulles Town Circle
Sterling, VA 20166Driving Directions
Other Nearby Locations:
Other Restaurants Nearby:
Get to Know Us
Welcome to Tilted Kilt Pub & Eatery, where good times are always on tap. That's because we're more than just a restaurant, and so much more than a sports bar. Our fun, festive atmosphere makes us the go-to place to watch sports, enjoy a cold beer and hang out with friends. We offer a delicious, mouth-watering menu, more than 30 draft and bottled beers to choose from and an extensive spirit selection. All this, plus year-round, nonstop pro and college sports action on all of our HD screens. Of course, there's also our World Famous Tilted Kilt Girls.® Beautiful and ever so friendly, everyone is eager to put a smile on your face and an ice cold beer in your hand. So, when you're in the mood for fine Pub food and cold beers, get into your nearest Tilted Kilt Pub & Eatery. All across America, everyone agrees that "A Cold Beer Never Looked So Good."®
A History Worth Celebrating
While the Tilted Kilt concept has its roots deep in the rousing tradition of Scottish, Irish and English Pubs, it actually first came to life in America's own sin city, Las Vegas. The brainchild of successful restaurateur Mark DiMartino, Tilted Kilt was conceived to be a contemporary, Celtic-themed sports Pub staffed with beautiful servers in sexy plaid kilts and matching plaid bras.
To launch his enticing creation, DiMartino assembled a stellar management team consisting of Shannon Reilly – a free spirit and conspiracy theorist, and John Reynaud – a great guy and aspiring golf pro.
The winning concept was an instant success and gained national and global exposure because of its Las Vegas location. Although Tilted Kilt wasn't originally created to be a franchise, it wasn't long before it caught the eye of Ron Lynch, an experienced and savvy restaurant and franchise developer. In addition to his vast restaurant franchising experience, Ron Lynch stood a towering 6'6" tall, which made him a figure the team could literally look up to.
Both parties agreed that Tilted Kilt had a broad, far-reaching appeal with a very real chance to gain success and a loyal following in multiple regions. In moving forward, their first step was to relocate the Tilted Kilt headquarters to Tempe, Arizona, where it is still based today.
Now, with locations far and wide across the country and many more scheduled to open, Tilted Kilt Pub & Eatery continues to lift spirits and joyously reaffirm that
"A Cold Beer Never Looked So Good."®
... more