Bayshore Mall — Broadway, Box 1
Eureka, CA Hours and Location
Category: Shopping Centers & Malls
Shopping Centers & Malls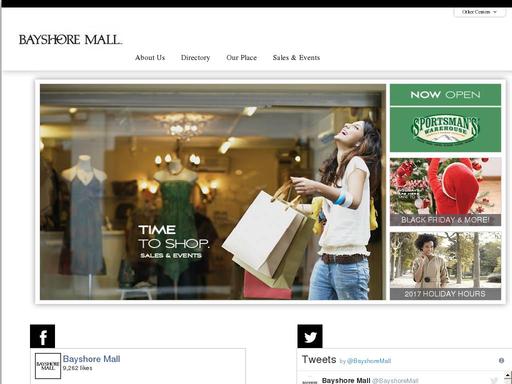 3300 Broadway, Box 1
Eureka, CA 95501Driving Directions
About Us
Bayshore Mall is conveniently located off Highway 101 in Eureka on California's beautiful North Coast. Ideally situated in the cultural, entertainment, and recreational center of the county, Bayshore serves as the shopping and entertainment center for the region and is the only regional shopping center within a 155-mile radius.
We see more than a mall. We see the center of a community. At Bayshore Mall, we are committed to creating a mall experience that meets the ever-changing needs of our community.
Our retail lineup includes Sears, Kohls, Ulta, TJMaxx, Walmart, Bed Bath & Beyond, Ross, Petco, Pier 1, Party City, Sportsman's Warehouse and more. Whether you enjoy a relaxing family outing in our Café Court or want to spend the day shopping at all your favorite stores, Bayshore Mall offers a complete experience.
Bayshore Mall also features a newly renovated interior, including soft seating areas; flat screen TV's; children's play area; Café Court furniture; and mall-wide free WiFi.
Directory