Nordstrom — Caruso Avenue
Glendale, CA Hours and Location
Category: Department Stores
Department Stores
Other Nearby Locations:
Other Department Stores Nearby: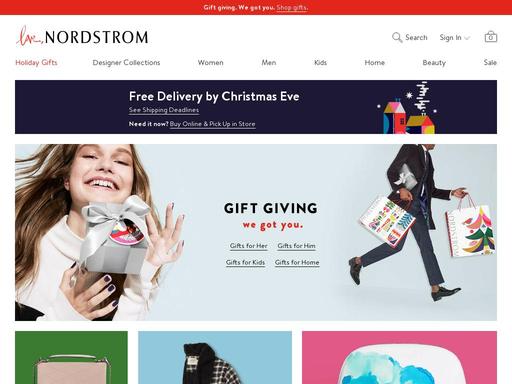 102 Caruso Avenue
Glendale, CA 91210Driving Directions
Other Nearby Locations:
Other Department Stores Nearby:
Location
Nordstrom at the Americana at Brand
Store Services
Alterations

All Nordstrom stores offer alterations and tailoring services, and basic alterations are free for many full-price items purchased at Nordstrom (online or in store). Just bring your receipt or packing slip in with you and talk to our experts. They'll determine what's needed during your fitting, and let you know if any charges apply.

Anastasia Brow Studio at Nordstrom

Ladies and gents, it's time to tame those brows. Your trained Brow Studio expert will reshape and sculpt the perfect brow arch using the Anastasia method.

"I wanted to create the ambiance of my salon inside the Nordstrom cosmetics department," says Anastasia. "Time is of the essence for the savvy Nordstrom shopper, and that is why we created a Brow Studio to suit their needs."

Nordstrom Beauty Stylists

Our Beauty Stylists offer a free service that's tailored just for you—to find the best beauty, skincare, perfume and grooming products across all our women's and men's brands. Ready to meet your very own beauty consultant? Call 1.800.7beauty or book an appointment with a Beauty Stylist.

Find a Beauty Stylist in Glendale, or give us a call at 1.800.7beauty.

Nordstrom Personal Stylists

Get together with someone who gets you. Someone who knows your closet as well as you do. Someone you can count on today, tomorrow … a year from now.

Our Personal Stylists are superfriendly—and always free. They know just what you need—even before you do! It's the ultimate shopping convenience.

Prosthesis Program

Our Certified Prosthesis Fitters provide assistance to the special needs of women dealing with breast cancer or surgery. We offer a vast array of intimate apparel, breast forms and mastectomy bras, plus assistance with Medicare claim filing—all in a comfortable and confidential setting.
Restaurants
Visit our Restaurants & Specialty Coffee site to learn about all our restaurants, see what's in your area and take a look at sample menus.
Bar Verde
Our full-service restaurant and bar features the freshest local ingredients we can find. From starters and salads to entrées and desserts, the expertly crafted menu has a seasonal focus. The full bar offers wine, specialty cocktails and beer, along with a selection of small plates.
Mon-Thu 11am-9pm
Fri-Sat 11am-10pm
Sun 11am-8pm
818.502.9922
Ebar
Enjoy handcrafted coffee beverages prepared by skilled baristas, along with housemade smoothies, pastries and a variety of grab-and-go sandwiches, salads and snacks that are made fresh daily.
Mon-Thu 8:30am-9pm
Fri-Sat 8:30am-10pm
Sun 10am-8pm
818.502.9922