Lincolnwood Town Center — W Touhy Ave
Lincolnwood, IL Hours and Location
Category: Shopping Centers & Malls
Shopping Centers & Malls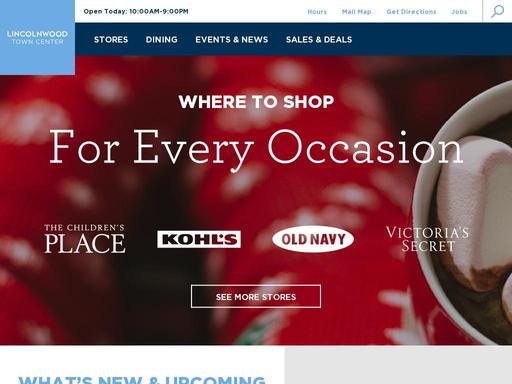 3333 W Touhy Ave
Lincolnwood, IL 60712Driving Directions
About Lincolnwood Town Center
A regional shopping hub in Lincolnwood, Illinois, the Lincolnwood Town Center is a beautifully designed and fully enclosed mall that features bright lights and marble floors for a comfortable environment and friendly atmosphere.
Home to over 90 retailers like Old Navy, Kohl's, Express, Victoria's Secret and more, this Lincolnwood mall has a store for every style.
After shopping, head to the upper level where little ones can play and explore in the Children's Play Area. Before heading home, grab a meal at one of the many dining options, including 90 Miles Cuban Cafe, Great Steak & Potato Company or Villa Fresh Italian Kitchen.
Lincolnwood Town Center has just what you need, For Every Occasion.
Store Directory