Akaka Falls State Park — Akaka Falls State Park
Hawaii, HI Hours and Location
Category: State Parks
State Parks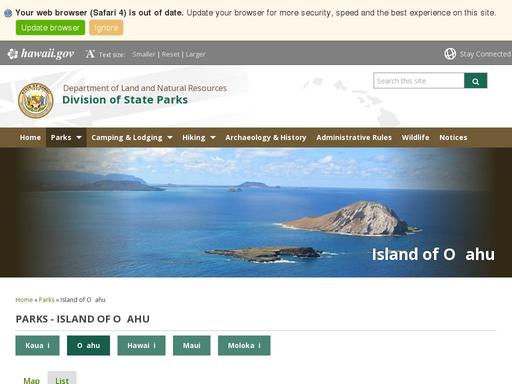 Akaka Falls State Park
Hawaii, HIDriving Directions
State Park
Hours
Vehicle gate/parking area open 8:30 am – 6 pm. Open to walk-ins between sunrise and sunset.
Entrance Fee
Individuals
$5.00 per car or $1 per person for pedestrians. No charge for Hawaii residents
Commercial PUC vehicles:
$10.00 - 1-7 passenger vehicles
$20.00 - 8-25 passenger vehicles
$40.00 - 26 + passenger vehicles
About
Pleasant self-guided walk through lush tropical vegetation to scenic vista points overlooking the cascading Kahuna Falls and the free-falling 'Akaka Falls, which plunges 442 feet into a stream-eroded gorge. The 0.4-mile loop footpath requires some physical exertion. (65.4 acres)
Route
The trailhead is located just off the parking lot. The paved route, which includes multiple steps in places (not wheelchair accessible), makes an easy to follow loop offering stunning viewpoints of the two waterfalls. To view 'Akaka Falls only, take the path to the left (south) from the first junction. The waterfall view is just a short walk down the path.
Directions
End of 'Akaka Falls Road (Highway 220), 3.6 miles southwest of Honomu.
Activities
Hiking
Sightseeing
Entry/Parking Fees
Facilities
Restroom
Trash Cans
Walking Path
Water Fountain
Scenic Viewpoint
Prohibited
No Bicycles
No Animals/Pets
No Alcoholic Beverages
No Smoking
No Commercial Activities