The Outlet Collection | Seattle — Outlet Collection Way
Auburn, WA Hours and Location
Category: Shopping Centers & Malls
Shopping Centers & Malls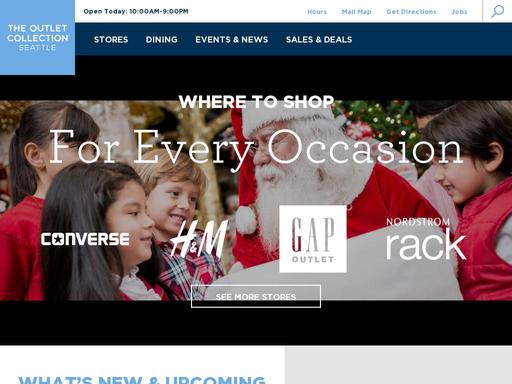 1101 Outlet Collection Way
Auburn, WA 98001Driving Directions
About The Outlet Collection | Seattle
The Outlet Collection | Seattle is the largest outlet mall in the Pacific Northwest, featuring a unique mix of top-brand outlets like Nike Factory Outlet, J. Crew Factory, Old Navy Outlet, as well as traditional stores like Sam's Club, H&M and Bed Bath & Beyond. Conveniently located in Auburn, WA at Highway 18 and State Route 167, The Outlet Collection | Seattle is an easy escape from the busy city.
If you get hungry during your visit, you can enjoy a blast from the past at Johnny Rocket's, or opt for something fresh at Villa Fresh Italian Kitchen, or choose from many other dining options.
Bring the kids along to ride the carousel or the kiddie rides, play in the Doxon Playland and join our Kids Club to receive exclusive discounts and attend fun events!
The Outlet Collection | Seattle has just what you need, For Every Occasion.
Store Directory